FAN PHOTOS
AS FEATURED IN
Customer Reviews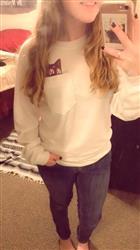 03/29/2018
PERFECT
This shirt was BEYOND cute! The sizing fit perfectly and the material was great! I ordered a long sleeve Luna tee in white and was a little worried it may be a tad seethrew but it's not! I can safely wear a black *** and it doesn't show threw! 10/10 would recommend DORKYPOP to anyone!
04/06/2018
Cute, comfy, and affordable.
Girlfriend loves it, says its incredibly comfortable. It looks amazing, just as pictured. Shipping was fast, and the quality is great. :D Definitely will buy from again.